CAUGHT IN CUFFS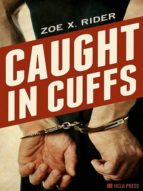 Ficha técnica

Editorial:

ISBN:

9781940635033

Idioma:

INGLÉS

Formato:

EPUB

DRM:

Si
Comprar
All Billy wants is a couple lousy hours alone so he can tie himself up and get off. With his sister home from college and her jock boyfriend, Frank, tagging along, he can't get any kind of privacy?until Steph's birthday rolls around. He begs off going to dinner with the rest of the family, saying he's scheduled to work. Unfortunately, Frank begs off too, claiming he's not feeling well. Desperate enough to risk it while Frank sleeps off his headache in the basement family room, Billy shuts his door and breaks out the handcuffs.

When Frank wanders in looking for something stronger than ibuprofen, Billy lunges for his keys, but he's not quick enough, and they wind up Frank's pocket. Now the only way he's going to get free before his sister and parents get home is by following Frank down to the basement to see what he wants from him.

"Caught in Cuffs" is an 8k-word erotic story containing bondage, self-bondage and explicit m/m sexual acts between consenting adults.