EPISODE ONE: LIGHTS, CAMERA, IMPACT!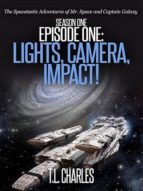 Ficha técnica

Editorial:

ISBN:

9783959266604

Idioma:

INGLÉS

Formato:

EPUB

DRM:

Si
Comprar
As adventurers of the grand cosmos, Mr. Jason Space and Captain Helena Galaxy seek to discover new worlds and new adventures and to have fun while doing it. They will never do paid mercenary work, no matter how good the offer, for they are explorers and not mercenaries. They will complete every mission they undertake, no matter how much trouble it gets them into. And they will never give up, regardless of whatever menacing aliens or dangerous obstacles they run into.

When Galaxy travels to the uninhabited world of Magna 5, she goes there only to find rare rocks she and Space can sell to geologists for money to help fuel their travels across the universe. But when Galaxy finds herself alone up against an old-fashioned assassin who is trying to kill a famed holofilm director, and with a meteor on its way to devastate the planet's surface, Galaxy must race against time to stop the assassin and get off Magna 5 before it is too late.