LONELY WITHIN A MARRIAGE (SECOND EDITION)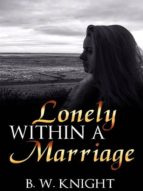 Ficha técnica

Editorial:

ISBN:

9783960280798

Idioma:

INGLÉS

Formato:

EPUB

DRM:

Si
Comprar
All Becky wanted was to be loved and respected.

Far from home and so very young. Becky?s life takes a tragic turn when her first love commits suicide.
She is beautiful, kind and lonely. Looking at life through rose-tinted glasses didn?t help her cause, she was in her own little world of peace and love so unaware of everything that went on around her.

When she meets Sam, she thinks all her lonely days are over. She couldn?t have been more wrong if she tried.

Being so in love with Sam she was unable to see the pitfalls in life. She wasn?t aware of the trauma that was about to impart into her life.