RUPEE MILLIONAIRES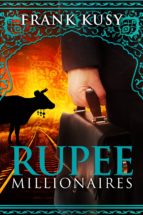 Ficha técnica

Editorial:

ISBN:

9780957585126

Idioma:

INGLÉS

Formato:

EPUB

DRM:

Si
Comprar
Rupee Millionaires is the based-on-true-life story of two London market traders?Frank, an insomniac Buddhist, and Spud, a psycho-genius thug?who travel to India in the ?yuppie 90s? to make their fortunes.
Full of colourful anecdotes, encounters with local Indians and with fellow traders, it tells of the rise and fall of a sleepy little town in the Rajasthan desert called Pushkar?which for one short decade became the new-age commerce hub of the Asian world.
It is also the story of a rag-tag band of hippy entrepreneurs known as the Pushkar Posse, and of their various attempts to become ?rupee millionaires? in a foreign land.
Join Frank on this wild rite of passage through India.

NOTE: Anyone riding the current wave of interest in India - books like Shantaram, films like Slumdog Millionaires and The Best Exotic Marigold Hotel - will enjoy 'Rupees', along with anyone planning on going to India or (lawd help them!) going into business in India.