SPECTER OF THE COVINGTON FENCIBLES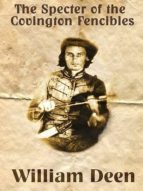 Ficha técnica

Editorial:

ISBN:

9781458163905

Idioma:

INGLÉS

Formato:

EPUB

DRM:

Si
Comprar
A haunting and ghostly Civil War era story.

Leonard B. McGrew, Pvt. in the 27th Mississippi Regiment, was a ornery and ill-tempered man. His mean spirited demeanor was well suited for being a soldier. He looked forward to the fighting and killing. Unfortunately, he did not realize there were consequences for the manner in which he treated others.

One victim of his malevolent ways seeks revenge and follows L.B. McGrew to his death bed.
----------------

"This is a very well written story. You do an especially good job capturing the growing uneasiness and outright terror that L.B. feels as his life goes on. The story does an excellent job building tension with the various sightings of the boy's spirit. I really enjoyed reading this, an extremely well crafted story."