THE ACTIVIST, OR THE SNAKE'S CHUCKLE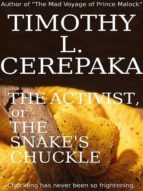 Ficha técnica

Editorial:

ISBN:

9781311751706

Idioma:

INGLÉS

Formato:

EPUB

DRM:

Si
Comprar
When Koromo Samver, leader of the spiritual/social movement known as the World Activists, receives a letter from her old mentor, Mother Dimina, summoning her back to the Mountain Monastery, she answers it without believing much will come of it.

As it turns out, the Mountain Monastery is under attack by Lord Skamva and his Trinity, a group of demons thought to have been banished three hundred years ago. Even worse, a terrible skin disease--one which drives the infected insane and often leads to suicide--has spread throughout the Order of the Monks, infecting almost all of the Monks, including Mother Dimina herself.

And when Koromo herself comes down with the disease, she must race against time to find the cure for the disease and stop the demons before they succeed in destroying the Monastery. Because if she fails to stop the demons, then not only will the Order fall, but the rest of the World as well.