THE GODS AMONG US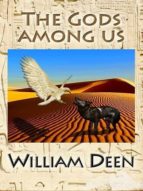 Ficha técnica

Editorial:

ISBN:

9781301277780

Idioma:

INGLÉS

Formato:

EPUB

DRM:

Si
Comprar
Collection of all 4 The Gods Among Us novellas. Approx. 400 pages.
Banished, Versipellis, Suffer The Innocent, Return To Nibiru.

An epic historical fiction, fantasy tale of banished ancient gods, jealous sibling deities, and the destruction of humanity. The story begins in 10,000 B.C and follows the feuding god-brothers Enki & Inlil through ancient Egypt, Mesopotamia, and Rome.

"This story does not disappoint. Often I felt like the fly on the wall, drinking in the fear, hatred, admiration and love experienced by a tribe of gods. Emotions all too human apparently rule gods with as potent a hand as they do us mortals. It is the foundation of these myriad emotions which ground the story and allow it to be free.

Gods are also capable of certain indiscretions which if left unattended may result in harming not only fellow deities but other beings as well. Anu is the god who dwells at the head of the table and it is his two sons Enki and his half brother Inlil who because of wills and determination even more powerful than their father's end up reaching for each other's throat.
Inlil has pushed his power and maxed out his Get out of Jail Cards. His behavior with the young goddess Sud has seen to that.