THE MAD VOYAGE OF PRINCE MALOCK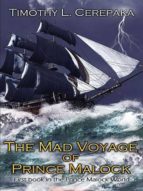 Ficha técnica

Editorial:

ISBN:

9783958300590

Idioma:

INGLÉS

Formato:

EPUB

DRM:

Si
Comprar
A mad voyage. A deadly sea. A prince who is determined to conquer both.

No mortal has ever sailed to the end of the world and returned to tell the tale. Legend says that the southern seas are full of dangerous sea creatures, lethal storms, and monstrous entities that even the gods cannot imagine. Only a great fool or a brave hero would dare to venture into these deadly waters, much less in response to the summons of a deity he has never even met.

Prince Tojas Malock is determined to cross the southern seas, even at the cost of his own life. To answer the summons of a goddess he does not worship, Malock recruits the finest crew money can buy: an intelligent but haughty mage, a young woman with a mysterious past, a fisherman with a secret, and an aquarian woman who knows far more than she lets on. With his ragtag crew of sailors, Malock sails to the world's end, prepared to overcome whatever the southern seas may throw at him.

But with mortal-eating gods, murderous aquarian pirates, and a betrayal within the ship's crew itself, Prince Malock's mad voyage may be destined for nothing more than a tragic end.