UNCLE BOB'S RED FLANNEL BIBLE CAMP - FROM BABLE TO BULRUSHES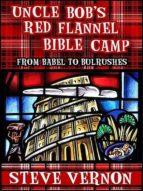 Ficha técnica

Editorial:

ISBN:

9781927765234

Idioma:

INGLÉS

Formato:

EPUB

DRM:

Si
Comprar
"The Bible is full of battles and death-defying escapes and lions and even a dragon or two. There is war and there are heroes and there are more special effects than you could shake a star cruiser at." - Uncle Bob

Follow Uncle Bob as he retells the adventures of the Book of Genesis from the building of the Tower of Babel to the placing of Moses and his basket into the bull rushes - white water rafting at its finest.

Catch up on your Bible Camp through the voice of a genuine down-home old school storyteller - namely, my Uncle Bob.