A BOOK FOR YOUNG PROGRAMMERS ON SCRATCH.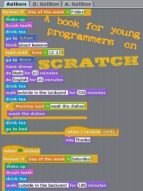 Ficha técnica

Editorial:

ISBN:

9781311866912

Idioma:

INGLÉS

Formato:

EPUB

DRM:

Si
Comprar
The goal of the book is introduction into programming, mathematics, sciences for elementary school students.
The material is written for student self-study (8-11 y.o.) who have basic skills of operating a computer. Children have to be able to use «a mouse», start using labels, etc., as well as count to 480, multiply and divide. More complex mathematical notions (negative numbers, decimal fractions, coordinate axis, degrees) will be explained on the pages of the book.
Scratch is a new free programming environment that allows children from 7 years old to create their own stories, cartoons, games and other creation.
This program allows children to express themselves in computer creative work. Scratch was specifically created as a new learning environment for teaching school students programming.
You can create cartoons in Scratch, play with various objects, change them, move them on the screen, set up forms of interaction between objects. The programs are created of multi-colored blocks the same way as Lego construction sets are made of multi-colored bricks.
Scratch was created in 2006 under the supervision of Mitchel Resnick by a Lifelong Kindergarten group in MIT Media Lab.
Scratch works on Windows or Linux computers. It doesn't work on any tablets!
Each chapter requires about 20-30 minutes to study. It is not recommended to study more than two chapters per day.