A BOY CALLED PIG AND OTHER STRANGE TALES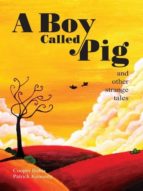 Ficha técnica

Editorial:

ISBN:

9783959263832

Idioma:

INGLÉS

Formato:

EPUB

DRM:

Si
Comprar
The World is a weird and wonderful place. It?s full of people and places that are curious and bizarre.

In the six strange stories in this collection, you will meet A Boy Called Pig and Magic Grandpa. You will also read about Operation Maverick, set in a park where children play at being adults. In Memory Loss Club, a romantic husband tries to win back the heart of his wife, even if she can?t remember who he is; and in The Green Jewel, a young woman discovers that she has mysterious powers.

A Boy Called Pig is published by Hippo Books, a publisher dedicated to producing interesting, readable and fun books. This book is suitable for English students with intermediate English or higher. Be sure to check out our other Hippo Graded Readers.