A DAY TO REMEMBER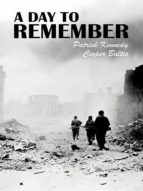 Ficha técnica

Editorial:

ISBN:

9783959263887

Idioma:

INGLÉS

Formato:

EPUB

DRM:

Si
Comprar
The events of a single day can change the course of history, for better or worse. These are the days that should never be forgotten.

In this book, you will read stories that recount historic events from the perspective of those who were there, like the bandleader who played on as the Titanic sank; and Howard Carter, the man who discovered the tomb of the Boy King, Tutankhamun. Experience the horror and heroism of D-Day through the eyes of a young soldier; and relive the assassination of President John F Kennedy on that fateful day in Dallas in 1963. Read about the division of Berlin and the joyous reunions that occurred when the Wall came down in 1989; and experience the devastation of Hurricane Katrina and its aftermath.

A Day to Remember is published by Hippo Books, a publisher dedicated to producing interesting, readable and fun books. This book is suitable for English students with intermediate English or higher. Be sure to check out our other Hippo Graded Readers.