AGAINST THE NIGHT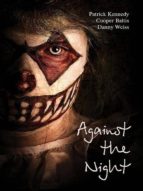 Ficha técnica

Editorial:

ISBN:

9783959263900

Idioma:

INGLÉS

Formato:

EPUB

DRM:

Si
Comprar
What happens when we die? Are there really spirits walking among us? Haunting us and helping us?
The six short stories in Against the Night will make you think and make you wonder. From the terror of The Mechanical Turk and the evil Mr. Clean, to the mystery of Messages and The Floating Girl, and the horror of Gone and Sixteen Years, once you start reading this book, you won't be able to stop until the last page. And after that, you'll check the cupboards and under your bed... to make sure you really are alone in the night.

Against the Night is published by Hippo Books, a publisher dedicated to producing interesting, readable and fun books. This book is suitable for English students with upper-intermediate English or higher. Be sure to check out our other Hippo Graded Readers.