ALICE´S RETURN TO WONDERLAND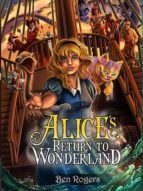 Ficha técnica

Editorial:

ISBN:

9781520322704

Idioma:

INGLÉS

Formato:

EPUB

DRM:

Si
Comprar
Alice's Return is Ben Rogers´s new bestseller. His writing is very poetry, delightful and has won the hearts of young people and adults with its incredible reflections and adventures. You reflect with wisdom, laugh at things you had never thought about and are truly moved. Dare to enter the Kingdom of Hearts and let the young Alice captivate you again.
In this work, Ben Rogers gets inspiration to take much of the richness of the universal classic Alice in Wonderland, and is based upon the magical and fantastic realism, so that the unreal world merges with the real world. Alice, the main protagonist of the narrative, revives the most outlandish adventures. In this wonderful universe, the characters she meets are personified animals, human-like objects, cards with heads, hands and legs, they are all fantastic creatures that will provide the reader an excellent and enjoyable journey into the world of imagination.

* * *
Years later, I was still able to evoke all the fantasy I had lived as if it had happened a few days ago. Fondly, Alice chose a place to go deep into her thoughts. By simply closing her eyes she lingered at the table of the March Hare. Like a lover, she smelled the scent of the environment. By only imagining, she slid her little fingers onto the table. She pressed the cups and silverware against her hand, in a sense which is expected to feel them even hear them:

- There´s no room! There´s no room!