ALL HE DESIRES: THE INVITATION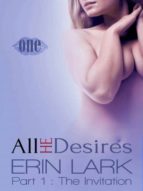 Ficha técnica

Editorial:

ISBN:

cdlxi00339119

Idioma:

INGLÉS

Formato:

EPUB

DRM:

Si
Comprar
Kira's spent the better part of a year masquerading as an escort, and quite frankly, she's tired of it. But with pay as good as it is, and no lack of clients in sight, it's impossible to pull away from such a lucrative job. Even if it is illegal.

That is until her favorite client offers to double her pay so long as she agrees to be his companion for one evening. No questions asked.

The promise of a doubled wage is hard to pass up, and the possibility of finally getting to see her lover's face and learn his name makes this deal impossible to resist.

With their destination as mysterious as the man who invited her, Kira accepts, but at what cost?

NOTE: All He Desires is a series of short episodes. The paperback and ebook collection will be released shortly after the fourth installment.