ALTERNATE HISTORY MURDER TRILOGY.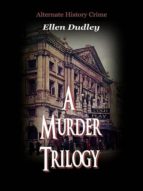 Ficha técnica

Editorial:

ISBN:

9783961421398

Idioma:

INGLÉS

Formato:

EPUB

DRM:

Si
Comprar
Alternate History
Book One. Acts of Murder.
Hugo Brent, criminologist, and his assistant and lover, scientist Kathleen Higgs-Taylor, assist Police Detective Inspector Lastrange, as he investigates a rich woman?s suicide. Later, they are called to a second death, a murdered in fact female playwright; only to find that the major suspect, a theatre producer, is the husband of the first murder victim.

Book Two. An Accidental Murder.
A woman admits to being the sole user of the murder weapon, after which, Kathleen and Hugo are faced with another death and then another and...?

Alternate History-Sci-Fi.

The Diamond Ring Murders.
A neat and tidy serial killer preys on prostitutes, leaving them with a diamond ring as compensation and then a suspect makes a confession to a newspaper.