AN EXTRA MAN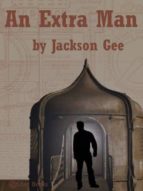 Ficha técnica

Editorial:

ISBN:

9781612100845

Idioma:

INGLÉS

Formato:

EPUB

DRM:

Si
Comprar
Sealed and vigilantly guarded was "Drayle's Invention, 1932"--for it was a scientific achievement beyond which man dared not go.

Excerpt

Rays of the August mid-day sun pouring through the museum's glass roof beat upon the eight soldiers surrounding the central exhibit, which for thirty years has been under constant guard. Even the present sweltering heat failed to lessen the men's careful observation of the visitors who, from time to time, strolled listlessly about the room.

The object of all this solicitude scarcely seemed to require it. A great up-ended rectangle of polished steel some six feet square by ten or a dozen feet in height, standing in the center of Machinery Hall, it suggested nothing sinister or priceless. Two peculiarities, however, marked it as unusual-the concealment of its mechanism and the brevity of its title. For while the remainder of the exhibits located around it varied in the simplicity or complexity of their design, they were alike in the openness of their construction and detailed explanation of plan and purpose. The great steel box, however, bore merely two words and a date: "Drayle's Invention, 1932."

It was, nevertheless, toward this exhibit that a pleasant appearing white-haired old gentleman and a small boy were slowly walking when a change of guard occurred. The new men took their posts without words while the relieved detail turned down a long corridor that for a moment echoed with the clatter of hobnailed boots on stone. Then all was surprisingly still. Even the boy was impressed into reluctant silence as he viewed the uniformed men, though not for long.