ANIMAL TALES 2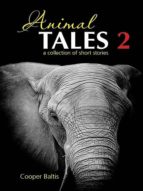 Ficha técnica

Editorial:

ISBN:

9783959263993

Idioma:

INGLÉS

Formato:

EPUB

DRM:

Si
Comprar
Animal Tales 2 is a collection of short stories based on real animals and real people.

In this book, you'll read about Unsinkable Sam, a cat that survived three shipwrecks; and Lulu, a pot-bellied pig that saved her owner from certain death. You'll also learn about Elephant Bill and his amazing escape from Burma in World War II; and a baboon that got a job as a signal man on the South African railways. You will also meet Hachiko, the most famous dog in Japan; and Old Tom, a killer whale that befriended and helped fishermen in Australia a hundred years ago.

Animal Tales 2 is published by Hippo Books, a publisher dedicated to producing interesting, readable and fun books. This book is suitable for English students with pre-intermediate English or higher. Be sure to check out our other Hippo Graded Readers.