APRIL FOOL BRIDE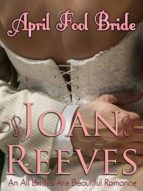 Ficha técnica

Editorial:

ISBN:

9780991599615

Idioma:

INGLÉS

Formato:

EPUB

DRM:

Si
Comprar
APRIL FOOL BRIDE is the first in a new romance novella series, All Brides Are Beautiful, by bestselling author Joan Reeves.

Is it a marriage of convenience or something more? Something that sizzles like steam heat between Maddie and Jake that neither can resist!

Oil heiress Madeline Quinn needs a husband by the time she turns twenty-five in order to claim her full inheritance. Mad Maddie, as the tabloids christened her, has learned the hard way that men only see dollar signs when they look at her.

Maddie decides a marriage of convenience is the only answer. She turns to the one man in the world she can trust, her housekeeper?s son who always treated her like a little sister when they were children growing up together.

Jake Becker hasn?t seen Maddie since the night she tried to seduce him. Why should he help the woman who changed the course of his life? Simple. Revenge.

Or is it something else? Something hot and smouldering that will not be denied?

REVIEWS
"Loved it! A fun summer read. Very nicely written. I liked it so much I'd like the author to do a follow up."

"I?m so pleased to see that Joan Reeves has published another story. I?ve read almost everything she?s written, as she?s a consistently excellent writer whom I?ve come to depend on for a charming, sexy, emotional read. In this marriage-of-convenience offering, she didn?t let me down. Loved the premise, loved the characters! Better still, this is the first book in a new series. Wonderful! Can?t wait for more."

"This was my first Joan Reeves book, and I am hooked. It is funny, steamy, and heartwarming all rolled into one."