AT FIRST LIGHT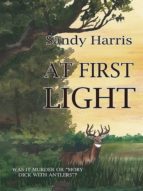 Ficha técnica

Editorial:

ISBN:

9783961426690

Idioma:

INGLÉS

Formato:

EPUB

DRM:

Si
Comprar
The Police Are Convinced High School Senior John Bateman Viciously Murdered Three Friends While Hunting Deer.

The sheriff?s office thinks Bateman, a model high school senior and son of a prominent citizen, brutally murdered his three companions on a south Alabama whitetail deer hunt. They don?t buy the tale he tells of a huge buck that somehow managed to kill all three of the armed men. They are a hair?s breath away from indicting him for murder when evidence begins to surface suggesting that something strange and seriously wrong happened out there in the woods. Could it be that John?s unbelievable story is actually true? John must risk his own life in the final showdown to prove his innocence beyond a doubt.

"Sandy Harris shows his love of the Southern outdoors and a good mystery in At First Light. You'll smell the scent of pine, and blood, in his prose." - Johnny D. Boggs, author of Killstraight and Whiskey Kills.

?Sandy Harris has taken an unusual premise, mixed in strong, memorable characters and several surprises in this strong debut mystery. Highly recommended!? - Gordon Aalborg ... author of The Specialist and Dining With Devils ... and - coming in 2018 - River of Porcupines.

"It?s always enjoyable to discover a new author who has crafted a unique, suspenseful tale. I look forward to seeing what Sandy Harris does next. He?s one to watch.? - Ben Rehder, Edgar and Shamus Award finalist.

?In At First Light, a story where one hunter's bad deeds turn deadly, author Sandy Harris's passion and great respect for wildlife shines through. A great read!? - Kimberli A. Bindschatel, award winning author of the Poppy McVie, Saving Animals One Book at a Time series .

?In this interesting first novel, Sandy Harris employs the gritty prose and character development of the 'detective' genre to turn out a taut hunting story in which the hunters become the hunted. His Moby Dick with antlers will keep visitors to the woods looking over their shoulders long after they?ve finished the book.? - E. Donnall Thomas Jr., author of Whitefish Can?t Jump and The Language of Wings.