ATHENA: QUEEN OF THE AIR (ANNOTATED EDITION)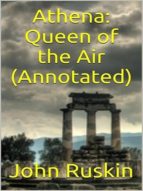 Ficha técnica

Editorial:

ISBN:

cdlxi00342158

Idioma:

INGLÉS

Formato:

EPUB

DRM:

Si
Comprar
'Athena: Queen of the Air' is an interesting work of Greek Mythology and art criticism that discusses the Goddess Athena.

Previously published in 1869, 'Athena: Queen of the Air' by John Ruskin was originally titled: 'The Queen of the Air: Being a Study of the Greek Myths of Cloud and Storm'. That previous edition is a public domain work.

The newer 2013 edition, has been retitled: 'Athena: Queen of the Air'for modern readers. The 2013 Edition includes extensive new material that is original, annotative, and introductory content that has not been included in any previous editions. Consequently this edition is copyright 2013 by TiLu Press.

Students of Greek Mythology, those interested in Goddesses, and those art students and art lovers who appreciate astute observations from a well known writer, art critic, and painter should enjoy this work in ePub format.