BALANCE YOUR LIFE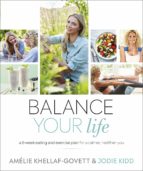 Ficha técnica

Editorial:

ISBN:

9780241390979

Idioma:

INGLÉS

Formato:

EPUB

DRM:

Si
Join Jodie Kidd to get fit, eat well, and take control of your life with this exercise and eating programme for busy people, specially devised by French personal trainer and nutritionist Amélie Khellaf-Govett, who was voted one of London's top fitness coaches by Tatler in 2016 and 2017.
TV presenter and former international supermodel Jodie Kidd follows the programme at her home, with Amélie showing her how to fit it around her busy life. With Balance Your Life you too can do this, and benefit from Amélie's motivational coaching, time-efficient workout routines, and deliciously simple and nutritious way of eating. Like Jodie, who shares her experience throughout, you'll find that this is a programme you can stick to. And when you get to the end of six weeks, Amélie gives you foolproof strategies for moving forward.
Weekly eating plans are accompanied by simple flavoursome recipes, plus six favourites from Jodie. Easy-to-follow home exercise programmes are explained with step-by-step photography. We all yearn for a calmer, healthier, more balanced life - Amélie's plan promises this. That's the reason why she's London's go-to personal trainer for successful women.
JODIE KIDD
Jodie Kidd is a television presenter, racing driver, and model. Her love of motoring led her to a successful career as a Maserati racing driver, competing at some of Europe's most prestigious racing circuits in the Maserati Trofeo Series. In 2016 she became an ambassador for BMW and contributed a motoring blog to the Guardian, and she has also taken part in the famous Gumball 3000 rally across Europe.
Her international modelling career has included work for Yves Saint Laurent, Chanel, and Lagerfeld, and more recently Moschino and Jaeger. Her television career includes Top Gear(BBC2), co-hosting The Classic Car Show (Channel 5) alongside Quentin Willson, Who Do You Think You Are (BBC1), Strictly Come Dancing (BBC1) and CNN Equestrian (CNN International). In 2017 she featured in the documentary series Drive to Perform, in collaboration with Sky, Shell, and BMW.
Jodie's charitable work includes being an ambassador for Help for Heroes, for which she completed both the Burma Bike Ride and Big Battlefield Bike Ride, and climbed Mount Kilimanjaro. She was also involved in Sky's Ocean Rescue campaign to raise awareness about ocean pollution.
Jodie enjoys living in the countryside with her son Indio and has recently opened a pub, The Half Moon, in Kirdford, West Sussex. She currently drives a BMW i8 and a BMW X5M.