BANGKOK COWBOY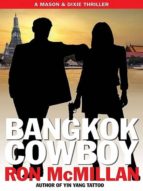 Ficha técnica

Editorial:

ISBN:

9786162222733

Idioma:

INGLÉS

Formato:

EPUB

DRM:

Si
Comprar
In Bangkok anything ? or anyone ? can be had for a price.
Two days after private eye Mason sees a drunken Australian kicked to death in Bangkok?s notorious Soi Cowboy, he is approached by one of the men involved. Mobster Raymond Long owns nightclubs on the seedy sex strip and wants Mason to find his American accountant, who has disappeared, taking with her a computer hard drive. Mason is about to turn him down, when he realises the missing accountant is his friend Nathalie West.
A British Army veteran of the Afghan war, Mason has seen his share of conflict - but finding out why Nathalie was secretly working for scum like Raymond Long pushes him beyond even his combat-hardened limits. Mason and his Thai partner Dixie urgently need to discover why the missing hard drive is so important ? and to get to Nathalie before Long?s murderous gang find her first. The arrival from Vancouver of a psychotic hitman representing Raymond Long?s mob bosses only adds to tension that mounts all the way to a late night climax on the banks of the Chao Phraya River.
By the author of the critically-praised Yin Yang Tattoo, (Sandstone Press, 2010), Bangkok Cowboy is the first in a series of action-packed Mason & Dixie crime thrillers set within the grimy folds of one of the world?s great cities.