BARED TO HIM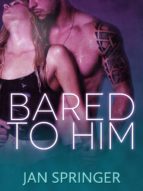 Ficha técnica

Editorial:

ISBN:

9781310123368

Idioma:

INGLÉS

Formato:

EPUB

DRM:

Si
Comprar
Tentacle Shifter Gray Wagner is the last male Miranda dreams of falling in love with...until she begins to fantasize about all the naughty things he can do to her...

New York Times & USA Today Bestselling Author Jan Springer brings you a sizzling Tentacles Shifter Erotic Romance, Bared to Him.

Human by day, and a tentacle shape shifter by night, sexy Gray Wagner, is the last male that Miranda Bolton dreams of falling in love with. He?s an irritating, arrogant male who teases her to no end. Due to her ancestry, Miranda knows she has a chance at becoming a shifter just like Gray. Alone with him, travelling the high seas on a yacht, she unexpectedly can?t stop fantasizing about him. Suddenly Gray becomes the only male she wants to mate with, and she?s going to make sure she gets what she wants...
Alaskan custom boat maker, Gray Wagner, promised Miranda?s dad that he would keep his daughter safe during their weeklong ocean voyage to attend a mutual friend?s wedding in California, but Miranda?s succulent shifter scent is driving Gray to distraction. He knows he shouldn?t be thinking about doing all the dirty and delicious things he wants to do to her, but all his promises to Miranda?s father disintegrate when Miranda shifts and Gray goes primal...