BEAUTY TOUCHED THE BEAST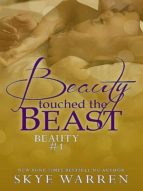 Ficha técnica

Editorial:

ISBN:

cdlxi00360852

Idioma:

INGLÉS

Formato:

EPUB

DRM:

Si
Comprar
Erin cleans Mr. Morris's house twice a week, soaking up every moment with the reclusive ex-soldier she secretly loves. Blake Morris knows he's scarred both inside and out and is no good for the beautiful young woman who cleans his house to pay for college. But when Erin walks in on Blake touching himself and moaning her name, all bets are off.

Beauty Touched the Beast is a short sexy story of lovers finding refuge with each other. Not for those under 18 years of age or those uncomfortable with the subject matter.

"Sweet, touching and erotic, Beauty Touched the Beast was wonderful." - Sizzling Hot Book Reviews

By popular demand, this short story has been expanded with several more parts. All of them have complete endings, no cliffhangers. You can stop anytime, but you won't want to once you get a taste of this dirty, sweet tortured hero.

Books in the Beauty series:
1. Beauty Touched the Beast
2. Beneath the Beauty
3. Broken Beauty
4. Beauty Becomes You

Or you can read the complete Beauty serial in The Beauty Series.