BET YOU CAN'T...FIND ME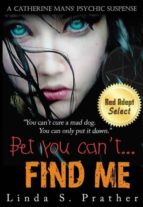 Ficha técnica

Editorial:

ISBN:

9783959261593

Idioma:

INGLÉS

Formato:

EPUB

DRM:

Si
Comprar
RED ADEPT SELECT

Author of the DI Lorne Simpkins Thrillers - Mel Comley says: "One of the best paranormal mysteries I've read."

?Imagine a killer who can kill at will from a distance. No gun, no weapon. Nothing more than a thought."
Catherine Mans has the ability to see and hear what others can?t. With the help of Homicide Sergeant Cody Allen, she?s turned that talent into a successful profession as a psychic consultant.
But Catherine?s past is coming back to haunt her. Someone is threatening the lives of everyone she loves.
Nine bodies have been discovered, and Catherine is the FBI?s prime suspect.
To prove her innocence, she must unravel the secrets of her past, and answer the challenge of a deranged psychic.
Bet you can?t...FIND ME!

"If you love the psychic suspense of Kay Hooper and the witty characters of Tammy Hoag, you'll love Find Me!"