BIBLE TRANSLATION BASICS
HARRIET HILL / ERNST-AUGUST GUTT / CHRISTOPH UNGER / MARGARET HILL / RICK FLOYD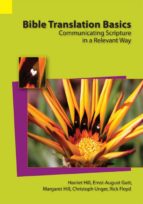 Ficha técnica

Editorial:

ISBN:

9781556712937

Idioma:

INGLÉS

Formato:

EPUB

DRM:

Si
Comprar
Over the past thirty years, scholars have made significant advances in understanding how human communication functions. They have moved from looking for meaning in texts alone to seeing texts as providing clues that lead hearers to discover the speaker?s intended meaning. Hearers use other inputs as well?things they already know, information from the speech environment?as they search to understand not only what the words of the text say but also what the speaker is communicating. All this has significant implications for Bible translation. Bible Translation Basics accomplishes two things: 1) it expresses these theoretical developments in communication at a basic level in non-technical language, and 2) it applies these developments to the task of Bible translation in very practical ways. Tried and tested around the world, people with a secondary school education or higher are able to understand how communication works and apply those insights to communicating Scripture to their audiences. Bible Translation Basics helps translators work with language communities to determine the kind of Scripture product(s) that are most relevant for them, given their abilities and preferences.
MARGARET HILL
Margaret Hill (M.A., University of Manchester) serves with SIL International. She is the author of Translating the Bible into Action (2010).
RICK FLOYD
Rick Floyd (Ph.D., University of California, San Diego) serves with SIL International and is a professor at Biola University.
CHRISTOPH UNGER
Christoph Unger (Ph.D., University of London) serves with SIL International and as a postdoctoral fellow at the University of Mainz. He is the author of Genre, Relevance and Global Coherence (2006).
ERNST-AUGUST GUTT
Ernst-August Gutt (Ph.D., University of London) served with SIL International and has been associated with University College London, University of Manchester and the Addis Ababa University in Ethiopia. He is the author of Translation and Relevance (2008).
HARRIET HILL
Harriet Hill (Ph.D., Fuller School of Intercultural Studies) is the Director of Scripture Engagement Content with the American Bible Society, formerly with SIL International. She is the author of The Bible at Cultural Crossroads: From Translation to Communication (2006).