BLACK HUMOR JOKES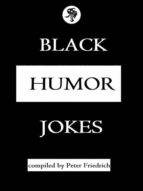 Ficha técnica

Editorial:

ISBN:

9783959268370

Idioma:

ALEMAN

Formato:

EPUB

DRM:

Si
Comprar
The one I love best is: A baby seal walked into a bar and sat down.
?What can I get you to drink?? asked the bartender.
The baby seal said: ?Anything but a Canadian Club!?
That`s a political satire with a tragic pun in three short sentences.

Black humor jokes easily describe situations far better than long psychological essays. For example, take one of my favourite ones:
On their 50 year wedding anniversary, someone asked the husband: ?What was the best time you had in all these years??
Husband: ?The five years being a POW in North Vietnam!?
That´s a two sentence psychohistorical analysis of a marriage that can´t be done better.
I have read a lot of books on psychology, sociology and more, but nothing beats jokes.
Jokes are just another form of serotonine doping, without the legal fuzz.
These jokes are politically incorrect, offensive, weird, sometimes offending.... you name it, but only jokes.