CITY OF THE DEAD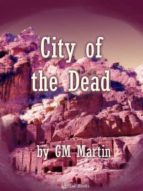 Ficha técnica

Editorial:

ISBN:

9781612101521

Idioma:

INGLÉS

Formato:

EPUB

DRM:

Si
Comprar
They called Launn a city of the dead. Its Martian peoples lay frozen in their tracks. But were they really dead--or only asleep?

Excerpt

Having recently returned from that barren section of Mars, called the Plain of Parna, I wish to report that the City of Launn actually exists. Scientists of this foundation have long believed that at one time the Plain of Parna, now desolate wasteland was inhabited, and irrigated to produce vast riches to support a city far ahead, in every cultural sense, of any earth settlement.

Sparse news of Launn can be gathered on Mars itself. As this planet has once more reverted to the rugged, mining and pioneer country that our own west resembled at one time, the people chuckle at the mere thought that Launn existed or that Mars has ever been anything but a rough, uncomfortable place to live.

Not discouraged at the unfriendly attitude encountered in Martian settlements, I left the last outpost, Fitzroy, on the edge of the Plain of Parna, July seventh, 2023. I was alone, and in trying to navigate over the Plain in a small space ship supplied for me by the foundation, I soon learned that the terrific heat caused updrafts above the desert that made space navigation impossible. I was forced to return to Fitzroy and solicit the assistance of a Burtell caravan master, who after many weeks, managed to come with-in sight of Launn. It was then that I learned that other Martians had seen Launn, but refused to help me as they feared the strange city of dead.