COLD LIGHT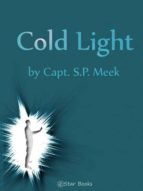 Ficha técnica

Editorial:

ISBN:

9781612100906

Idioma:

INGLÉS

Formato:

EPUB

DRM:

Si
Comprar
How could a human body be found actually splintered-broken into sharp fragments like shattered glass! Once again Dr. Bird probes deep into an amazing mystery.

Excerpt

?Confound it, Carnes, I am on my vacation!?

?I know it, Doctor, and I hate to disturb you, but I felt that I simply had to. I have one of the weirdest cases on my hands that I have ever been mixed up in and I think that you?ll forgive me for calling you when I tell you about it.?

Dr. Bird groaned into the telephone transmitter.

?I took a vacation last summer, or tried to, and you hauled me away from the best fishing I have found in years to help you on a case. This year I traveled all the way from Washington to San Francisco to get away from you and the very day that I get here you are after me. I won?t have anything to do with it. Where are you, anyway??

?I am at Fallon, Nevada, Doctor. I?m sorry that you won?t help me out because the case promises to be unusually interesting. Let me at least tell you about it.?

Dr. Bird groaned louder than ever into the telephone transmitter.

?All right, go ahead and tell me about it if it will relieve your mind, but I have given you my final answer. I am not a bit interested in it.?

?That is quite all right, Doctor, I don?t expect you to touch it. I hope, however, that you will be able to give me an idea of where to start. Did you ever see a man?s body broken in pieces??

?Do you mean badly smashed up??

?No indeed, I mean just what I said, broken in pieces. Legs snapped off as though the entire flesh had become brittle.?

?No, I didn?t, and neither did anyone else.?

?I have seen it, Doctor.?

?Hooey! What had you been drinking??

Operative Carnes of the United States Secret Service chuckled softly to himself. The voice of the famous scientist of the Bureau of Standards plainly showed an interest which was quite at variance with his words.

?I was quite sober, Doctor, and so was Hughes, and we both saw it.?

?Who is Hughes??

?He is an air mail pilot, one of the crack fliers of the Transcontinental Airmail Corporation. Let me tell you the whole thing in order.?

?All right. I have a few minutes to spare, but I?ll warn you again that I don?t intend to touch the case.?