CONVOY TO ATLANTIS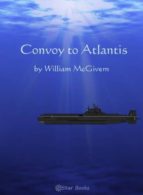 Ficha técnica

Editorial:

ISBN:

9781612101101

Idioma:

INGLÉS

Formato:

EPUB

DRM:

Si
Comprar
Beneath the waves of the Atlantic lay a great menace to America-hundreds of Nazi submarines based in an incredible undersea city!

Excerpt

The incident which the entire world had been anticipating for months finally occurred at nine-fifteen on the evening of September twenty-second._br_It was a warm night and the air was still. The long slow swells of the North Atlantic moved as silently and heavily as molten lead. Everything was calm and quiet and peaceful.

One minute before it happened-at nine-fourteen to be exact-Brick Harrington, United States seaman, first class, sauntered to the side of the American convoy ship, Vulcan, and rested his arms on the rail. Glancing down at the frothing waves formed by the swiftly cutting prow of the boat, he yawned sleepily.

He was a tall young man with heavily muscled shoulders and quiet, level gray eyes. A thick unruly thatch of red hair topped his six-foot frame, accounting for his nickname, Brick.