CROSSED WIRES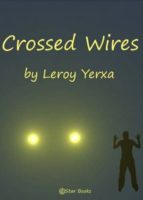 Ficha técnica

Editorial:

ISBN:

9781612101309

Idioma:

INGLÉS

Formato:

EPUB

DRM:

Si
Comprar
Excerpt

Jim Garfield sauntered from his office and hesitated between going outside for a cigarette or entering the projection room. He chose the latter. He wandered down the hall to the door marked, Keep Out Projection Studio, and went in. The room was dark. Walter Marsh leaned over a small scanning machine in the far corner, a single bulb lighting his face.

"Walter," Garfield said cheerfully, "why in hell don't you get out for a little sunshine once in a while." Marsh straightened quickly, startled by Garfield's voice. He had been intent on the film.

"Hello, Jim." Marsh turned off the machine and pressed the switch that lighted the small studio. He blinked under the brilliance of the light. "Taking another look at that Jap film. The Government thinks it's pretty important."

Garfield sauntered down the short aisle of the studio and flopped into an easy chair.

"But why use the scanning machine?" he protested. "That film was one of the finest sound jobs I ever made. Spent six months in Japan, before the war, filming it. What can you get out of it without hearing the sound track?"

Marsh shrugged. He admired Garfield for his six feet of poise and easygoing handsomeness. He wondered, however, how long it would take to pound a point into Jim's head.

"Our old argument coming up again, I see," he said. "I've told you a hundred times that I don't need to hear the sound track. If I see it in the scanning machine, that's enough."

Garfield place a long leg over the arm of his chair and scowled.

"Wait a minute," he said. "Might as well settle this myth of yours for all time. Prove it."

"Prove what?" Marsh asked. "That you can tell every sound, every bit of conversation by scanning the track. Brother, I've got to be shown, and it'll be worth a free lunch for the man who can show me."