CUCKOLD NEVER SLEEPS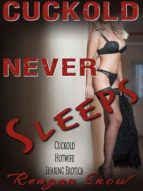 Ficha técnica

Editorial:

ISBN:

9783960283874

Idioma:

INGLÉS

Formato:

EPUB

DRM:

Si
Comprar
David and Mary had been married for ten years but the spark had left their marriage a long time ago. As an anniversary gift, David had agreed to something he never dreamed he would - allowing another man into their marriage. On their anniversary night, a whole new chapter started in their lives. Would David embrace these changes? Or would he run the other way...

**EXCERPT**

I was suddenly afraid that I was going to lose my wife to this hot, incredibly fit man with a huge cock. I knew he was hot because I?d often booked him as a model for some shoots, but I?d never seen him naked. He also had a well-trimmed triangle of pubic hair just over his huge cock that made it seem like he was really a professional bull with his perfectly-kept cock. If there was such a thing as a professional bull, he was it.

He had a cock piercing, too, a Prince Albert piercing he later called it, which made my wife gasp in surprise and wonder aloud if she?d be able to handle something like that. He helped her into the hot bath in the center of the wooden deck, where she began to fondle his cock and balls, playing with his piercing. Me? I had to come in third, a little hesitant, a little regretful.

But oh, my cock was already proving that I wasn?t going to be a true resister.