CUCKOLD NEVER WINS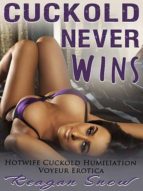 Ficha técnica

Editorial:

ISBN:

9783960283898

Idioma:

INGLÉS

Formato:

EPUB

DRM:

Si
Comprar
Marina had put up with bad sex for years, but when it finally came time for her to get some hotwife action, she didn?t hesitate at all. She wanted it, and she wanted it hard. But she didn?t want her husband watching or taking any part in it. Would she finally concede and allow her husband to watch from the floor of their bedroom? Or would he be pushed completely out of the relationship...

**Excerpt**

I stopped on the porch, my hand in my pocket to grab my keys, when I heard the unmistakable sound of the two of them going at it. It was my wife making most of the noise, surprisingly. I would never have thought that she would be the loud one. She was usually pretty timid and quiet.

She must be loving it though, given the moans she was making. Leaving my keys in my pocket, I snuck through the side yard and around to the back to the bedroom window, getting up on my tiptoes to try to peek through the window. I had to actually climb on the AC unit before I could see properly. I crossed my fingers that the neighbors wouldn?t see me in this embarrassing position.

But that?s when I saw it. Oh wow! I couldn?t believe what was happening. My wife was getting eaten out. She was getting really, really licked! Through the blinds, I could tell that she had her legs spread wide open and he was going crazy at the juncture where her legs met.