CURSE OF THE CRYSTAL DRAGON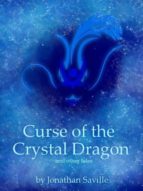 Ficha técnica

Editorial:

ISBN:

9780982933008

Idioma:

INGLÉS

Formato:

EPUB

DRM:

Si
Comprar
How does a Chinese dragon come to exact punishment and collect payment for sins at the oldest cathedral in North America?

Thomas Eberle discovers that Father Renault, the historian and tour guide in residence at Quebec City's Notre Dame Cathedral, is showing off more than stained glass windows and ecclesiastical architecture. When the Crystal Dragon makes an appearance during a private tour, a curse that began centuries ago becomes intertwined with the present. Discover what old injustice caused the vampires to rise and the dragons to fly once again.

Explore Jonathan Saville's contemporary fantasy to learn when will the vengeance finally be enough, and how will justice be satisfied?

The Curse of the Crystal Dragon is one in a series of books where the ever so ordinary Thomas Eberle stumbles into ever so extraordinary adventures.