DAISY BRADFORD #3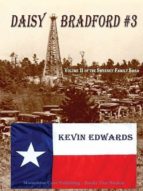 Ficha técnica

Editorial:

ISBN:

9781937327262

Idioma:

INGLÉS

Formato:

EPUB

DRM:

Si
Comprar
"...blends cunning mystery with shrewd history. I loved being swept back to the glory days of the East Texas oil boom."-Jeannie Faulkner Barber, Overton, Texas, author of Taste of Fire.

Henry Sweeney escaped the Chicago Levee vowing to protect his two children at a farm in East Texas. His wife remained in an Illinois cemetery. Drought and the Depression force Sweeney back into his former lifestyle: bootlegging and gambling. Sweeney's companions, Clickster, a one-legged veteran with a noisy contraption for a leg, Jessie, a half-breed, foul-mouthed woman, peddle illegal booze throughout the oil fields of Louisiana. A local sheriff, Dee Dandy, tires of the ordinary weekly payoffs and demands the bulk of Sweeney's profits. East Texas is alive with oil prospectors. Sweeney meets H.L. Hunt, who seems to have two wives, and the pair begins an odd alliance in the search for oil.

"Kevin Edwards takes us to new depths...weaving fiction into historical events with a tale you won't want to stop reading."-Patricia Patterson, author, lecturer.

"Kevin Edwards does it again with the second installment of Sweeney" & his cohorts, but this time it's oil and Texas Style-Big."-George Scott. Director, Books for Heroes.