DESERT HEAT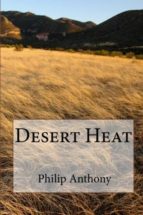 Ficha técnica

Editorial:

ISBN:

cdlxi00325026

Idioma:

INGLÉS

Formato:

EPUB

DRM:

Si
Comprar
Desert Heat,

Darryl MacArthur (Mac) Lester and Raymond Vincent (Raven) Watkins help people while running Mac?s laundry and dry cleaning business. You have a child in trouble? You have a problem with crime in your neighborhood? If you have a loved one go missing? They will help you. Mac, a college graduate with a degree in cultural Anthropology, never able to ply his trade as a vocation due to inheriting the laundry from his ailing father, now uses what he learned in college as an avocation in the real world. Ray quit college his freshman year due to the murders of his pregnant wife, his cop brother and his brother?s wife along with Ray, himself, taking two bullets to the chest. He went into the military after he recovered physically and remained there until the rage ebbed. Still troubled, he returned and went to work for Mac. In the years since, he has built a reputation as a crime fighting urban legend.

Julia Olson, an award winning investigative reporter who, three years ago, lost her beautiful younger cousin forever as she tried to come from Mexico across the desert to live the American dream, specializes in writing about America?s immigration issues. Julia is a strong voice for immigrant?s rights within a sane American immigration policy. She digs deep, leaving no stone unturned, practices fair reporting but remains thorough and tough when she has to be.

Somewhere in the desert south of Tucson, Arizona, a truckload of recent arrivals to America are gunned down. Julia comes down from Phoenix for the story. Mac and Ray come down because they believe the daughter of one of their employees might be among the dead. Together, the three of them investigate the incident that takes them back to Phoenix and a human and drug smuggling operation run by evil and greedy men who slough off human life for the almighty buck.
As Ray fights his own demons and Julia and Mac find each other, they come up against ruthless drug and human smugglers and a Mexican drug cartel that will stop at nothing to protect their operation and themselves.

The action spans the valley of the sun ending up all the way down to Mexico as the passion of love, the bittersweet taste of revenge and the challenge to stay alive against unbeatable odds reverberates from every page until the final fiery confrontation.