DOCTOR WHO: BOOK 6: STEP BACK IN TIME
RICHARD DUNGWORTH / JACQUELINE RAYNER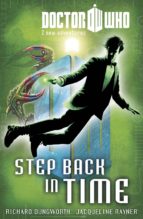 Ficha técnica

Editorial:

ISBN:

9781405908153

Idioma:

INGLÉS

Formato:

EPUB

DRM:

Si
Comprar
Exciting action-packed new original fiction for younger Doctor Who fans, starring the Eleventh Doctor with his companions Amy Pond and Rory Williams. Step Back in Time contains two fast-paced, fun-filled adventures!
The Doctor, Rory and Amy take a trip to the 1966 World Cup in Extra Time. Rory ends up playing a crucial part in this historic football match, while the Doctor and Amy discover that the Doctor isn't the only alien visiting Wembley...
The Water Thief sees the Doctor, Amy and Rory visiting an archaeological site in ancient Egypt. They soon realise there's something unearthly being dug up and it wants all the water it can find...!
JACQUELINE RAYNER
Jacqueline Rayner has written many books, audioplays and comic strips, many of them set in the world of Doctor Who, including the number one bestseller The Stone Rose and two 'Quick Reads' for World Book Day. Before becoming a full-time writer, she worked at BBC Books as an editor on their Doctor Who range.
RICHARD DUNGWORTH
Richard has written over forty books for children and began his writing career as an in-house author, working on non-fiction, first at Usborne Publishing, and later at Ladybird Books. Since going freelance, he has created original stories to support a wide range of exciting licensed properties such as Doctor Who; Wallace and Gromit; Transformers; MI High; Captain Scarlet and The Incredibles. Richard lives in Leicestershire with his wife and two young children. Richard's rather unfortunate surname comes from a village in South Yorkshire, where his ancestors lived. It means 'a dwelling with dried cow pats for roofing'. Lovely.