DON'T FEED THE RAT!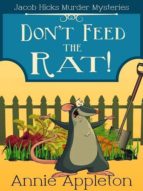 Ficha técnica

Editorial:

ISBN:

9780955734465

Idioma:

INGLÉS

Formato:

EPUB

DRM:

Si
Comprar
When Jacob Hicks, resident weird professor with a phobia for women, is the suspect in a murder case, he reluctantly sets out to prove his own innocence.
He tolerates the help of Emily, the niece of his best pal Dave and on probation for having bitten a policeman.
Together they delve into the gossip and lies surrounding the members of the local allotment society, where gardening implements can turn out to be deadly weapons.

Meanwhile, Paddy the Rat and his friends are plagued by obnoxious teenage rat Cecil, who with his posse is disturbing the peace and quiet of the allotments. This wouldn?t be half as bad if Cecil hadn?t focussed on teasing Mad Maggie, Paddy?s childhood bogeyman. She has recently come alive and is now making Paddy?s life a living hell.

While Inspector McDermott tries to prove Jacob?s guilt, Jacob and Emily deal with scantily clad women, a development project that turns into blackmail and a maniacal old neighbour, who is convinced the rats are out to get her.
Will Milbury Hill ever be the same after this?