DON'T JUDGE ME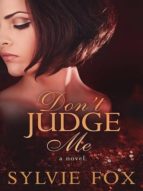 Ficha técnica

Editorial:

ISBN:

9781940811109

Idioma:

INGLÉS

Formato:

EPUB

DRM:

Si
Comprar
So far, Raphael Augustine?s ten year career as a comedian consists of a lot of ones: one night gigs, one night stands, and one night in jail. But he?s committed to inking a successful TV deal, nonetheless. He?s not looking for a relationship and certainly doesn?t expect to have his briefs tied in a knot by a prim and proper woman from Connecticut.

There?s not much to laugh about in Daisy Fletcher?s life. She never thought an Ivy League degree would land her work as an adult webmaster. Years later, fake chat room dates are her only companions, and a failing business her reward. Her father always told her men only want one thing. By selling that one thing to virtual customers, she?s lost faith in the opposite sex.

After Daisy catches Raphael?s shirt during a striptease at a gay bar, she?s tempted. Can a rakish comic change Daisy?s ideas about love and fortune?