EARTH SHAKERS (BOOK TWO): THE LIBRARY UNDER THE SAND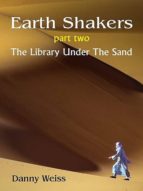 Ficha técnica

Editorial:

ISBN:

9783960285120

Idioma:

INGLÉS

Formato:

EPUB

DRM:

Si
Comprar
Jack and Margo are now in so deep that they can never turn back. Joined by Casey and Ibrahim, two other new members of the Society of Earth Shakers, they must find and protect an ancient and secret library buried beneath the shifting sands of the Sahara. On their breathtaking adventure, they must also face a terrifying group of desert-dwelling bandits, known as the Marauders, and make sure that they, and their vicious leader, never get their hands on the priceless treasures in the library under the sand.

Earth Shakers: The Library Under The Sand is the second book in the exciting new adventure series from Hippo Books. Keep your eyes open for Book Three later this year!

Earth Shakers is published by Hippo Books, a publisher dedicated to producing interesting, readable and fun books. This book is suitable for English students with upper-intermediate English or higher. Be sure to check out our other Hippo Graded Readers.
About the Author:
Danny Weiss received a degree in Civil Engineering and Architecture from Princeton University in 2012, and is TESOL certified. He has worked in a variety of different fields and on a number of different projects in Asia, Africa, and South America - most recently as an English teacher and contributing author for Hippo Books, and as a coordinator of international partnerships for a large American NGO.