ECHOES OF NOVEMBER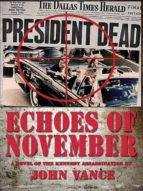 Ficha técnica

Editorial:

ISBN:

9783960284055

Idioma:

INGLÉS

Formato:

EPUB

DRM:

Si
Comprar
Jfk Researcher Mark Kemble Becomes Tangled In A Violent Series Of Events That Eventually Lead Him To Dallas And A Confrontation With The Assassin Of The President.

Poll results from the past two decades demonstrate that nearly two-thirds of Americans, Canadians, and Europeans believe that John Kennedy was murdered as a result of a conspiracy in November of 1963. If true, could one of the assassins still be alive, perhaps living in the United States? Set in Washington D.C. in November of 2004, Echoes of November brings this assassin to life. Kennedy Assassination expert Mark Kemble finds himself caught up in a series of violent events that eventually lead him to Dallas and a confrontation with the assassin.
Among the novel's other characters are a former member of the Warren Commission who in the years since has become one of Washington's power brokers; a medical technician who assisted at Kennedy's autopsy; and three significant women characters-one being a United States Senator and daughter of a powerful Congressman during Kennedy's administration.
In Echoes of November the details about Kennedy's assassination are blended into a mystery/thriller with a historical component as exciting as the story itself.

"Mixing historical fact and fiction, John Vance has once again created a first-rate Beltway thriller. Here, the assassination of President John F. Kennedy and its continuing investigation by a dogged journalist some forty years after that murderous event, prove that old secrets are never dead, buried, forgotten, or forgiven....Vance skillfully weaves vivid character portrayals with details of the Kennedy assassination and autopsy that have always troubled experts... A compellingly chilling read."-Robert Cooperman, author of Just Drive (Brick Road Poetry Press) and In the Colorado Gold Fever Mountains (winner of the Colorado Book Award).

"Echoes of November is finely crafted suspense that will make you rethink preconceived notions we all have about a day etched in our collective consciousness."-John Hazen, Author of Fava and Journey of an American Son.