EUROPEAN UNION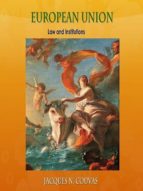 Ficha técnica

Editorial:

ISBN:

9783959268875

Idioma:

INGLÉS

Formato:

EPUB

DRM:

Si
Comprar
"European Union: Institutions and Law" aims at familiarising management students, managers and executives with the institutional structure of the European Union, its legal system, and the decision-making process after the adoption by the Member States of the Treaty of Lisbon. It may also prove useful to students of political sciences and economics, and to law students who have not had specialised instruction on the subject.

Managers and executives, from EU Member States and from third countries, will find answer to practical questions concerning the role of the Commission, the Counsil and the Council, and their impact on business issues.

The recent Greek crisis, and the debate on Britain's membership to the Union, have revived, if not the interest, at least a degree of curiosity among citizens as to the purpose of all these institutions which today regulate an increasing number of aspects of our daily lives.

In addition to covering the main subjects of constitutional, law-giving and competition policy of the EU, the author discusses the need for the Union to further reform its operating frame in order to set the foundation for 'Europe of the 21st century', and outlines possible scenarios for doing so.

Students and managers from countries which are candidates for, or aspire to membership, are likely to find this text helpful in understanding Europe in clear terms.