EXTRACTION: A KID SENSATION STORY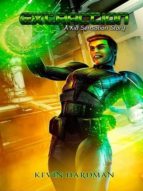 Ficha técnica

Editorial:

ISBN:

9781937666156

Idioma:

INGLÉS

Formato:

EPUB

DRM:

Si
Comprar
Everyone needs help occasionally - even supers with amazing powers - and Jim (aka Kid Sensation) is no exception. Having previously received aid from a young psychic named Rudi, Jim feels obligated to return to the favor and rescue her from the federal facility where she?s being held.

But breaking into a top-secret, heavily-fortified government installation is never a walk in the park, especially when said installation has top-of-the-line security systems, trigger-happy guards, and its own team of formidable supers. It will take a bold and audacious plan to get Jim - and the friends who volunteer to help him - inside.

Unfortunately, breaking in is only half the problem (and the easy half, at that); they also have to break back out...