FAITH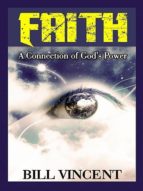 Ficha técnica

Editorial:

ISBN:

9783959268844

Idioma:

INGLÉS

Formato:

EPUB

DRM:

Si
Comprar
Faith: A Connection of God?s Power is a cutting edge book that will stir a new level of faith in today?s world. Whether you are a new Christian or a longtime friend of God, you will truly be blessed by Bill Vincent?s simple teachings through this book.

In his passionate desire to see believers walk in the supernatural, Bill Vincent has put together this book ?Faith: A Connection of God?s Power? to stir up believers into greater dimensions of spiritual manifestation. Bill experienced the faith teaching for the first ten years of his ministry. Everyone was preaching the faith message and Bill spent over ten years of his ministry avoiding that subject. It was in his heart that all that could have been taught was taught on the simple subject of faith. In mid 2015 Bill found God moving him to preach on faith nearly every week. Now, after a long anticipation for the fresh release on this subject, we hope you enjoy Faith: A Connection of God?s Power.

Bill Vincent has written more than forty books available all over the world. He is a prophetic voice that stays close to God in all he does. Bill is the Founder of Revival Waves of Glory Ministries and Revival Waves of Glory Books & Publishing.