FIRST WAVE - FANCY ILLUSTRATED EDITION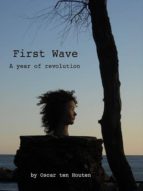 Ficha técnica

Editorial:

ISBN:

cdlxi00337967

Idioma:

INGLÉS

Formato:

EPUB

DRM:

Si
Comprar
After three years of economic crisis, 2011 marked the start of popular resistance. Inspired by the Arab Spring, the citizens of Spain took the streets on May 15 to demand ?Real Democracy Now!?

What would have been a one day only protest, exploded into the largest popular movement since the outbreak of the Spanish Civil War in 1936. It was directed against the unhealthy influence of the financial world on politics. It was aimed at a radical change of society, into one that is founded on human instead of economic values.

I was a farm boy in Andalusia when it began. I came to Madrid, and I joined the revolution.

For one whole year I have been living in a tent on a hundred different squares. I have marched with the ?Indignados? all through the old continent to Brussels and Athens. I have reported almost daily on the ups and downs of the Occupy movement in Europe, and on the broader outline of history.

This is the chronicle of a utopian village. It?s also a travel account, a study into human self organisation and a revolutionary manifesto. But most of all, it?s a compelling portrait of TIME Magazine?s ?Person of the Year, 2011?: the protester.