FLYERS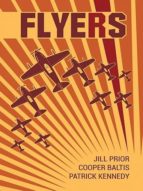 Ficha técnica

Editorial:

ISBN:

9783959263894

Idioma:

INGLÉS

Formato:

EPUB

DRM:

Si
Comprar
John Damian, The Flying Priest, was one of the first men to attempt to fly when he jumped off a Scottish castle in 1506.

The Wright Brothers achieved what many before them had failed to do, and became the first men to fly an airplane in 1903.

The Red Baron, Manfred von Richthofen, was a daredevil pilot who ruled the skies over Germany and France in World War One.

Charles Lindbergh was a fearless aviator who became the first man to fly across the Atlantic Ocean.

Amelia Earhart fulfilled her dream of being the first woman to attempt to fly around the world, but at what cost?

Felix Baumgartner reminded us that you don?t always need a plane to fly when he jumped from space in 2012.

Flyers is published by Hippo Books, a publisher dedicated to producing interesting, readable and fun books. This book is suitable for English students with intermediate English or higher. Be sure to check out our other Hippo Graded Readers.