FOR KING AND BLOODY COUNTRY.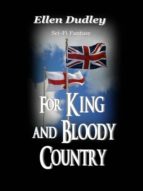 Ficha técnica

Editorial:

ISBN:

9783961421596

Idioma:

INGLÉS

Formato:

EPUB

DRM:

Si
Comprar
Melanie Jones returns with her associates from an overseas espionage mission to be confronted by the death of her only relative, her uncle.
After a terrorist attack ending in tragedy, she attends her uncle's funeral and inherits a strange device with which she travels back in time in order to prevent the death of her lover ... only to face even more disaster.