FOREVER WATCHING YOU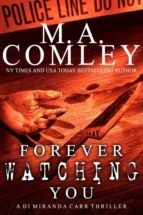 Ficha técnica

Editorial:

ISBN:

9783959261647

Idioma:

INGLÉS

Formato:

EPUB

DRM:

Si
Comprar
With everything to live for, wealthy cosmetic entrepreneur Anneka Morton is on the cusp of launching a brand-new range of products... but her husband reports her missing just days before the launch party.

When intrepid Detective Inspector Miranda Carr arrives at the crime scene, the clues indicate that Anneka was abducted from her own home. Without a body, she suspects foul play from a cosmetics competitor. However, DI Carr's case gets turned on its head when Anneka's body is found, and the last person Miranda suspected goes on the run.

Miranda hops on a plane to Portugal with her boss, DCI Caroline Gordon, and enters into a joint covert operation with Interpol to arrest and extradite Anneka's murderer.