FROM BUTTERFLIES TO CATERPILLARS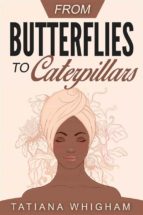 Ficha técnica

Editorial:

ISBN:

9783960286127

Idioma:

INGLÉS

Formato:

EPUB

DRM:

Si
Comprar
It?s a known fact that most butterflies struggle getting their wings. It seems as if the pain of leaving the cocoon is often times just too much to bear. However, without this experience, the butterfly will never gain the strength to fly. So even in the midst of all of the pain and strife, the butterfly presses on anyway. But what happens to the butterflies that don?t leave the cocoon? Do they just go back to being plain old caterpillars? Or due to the absence of their wings, do they become crippled for life?
If truth be told, most people float through life just like this. With the pain of the past just harboring too close to home, many people stumble through life too afraid to step over their failures, to cut ties with their pain, or even to fly by their heartaches. But no matter how hard they try to avoid confronting these issues, they can never grow into the person that God has called them to be without it.
As I turned this truth into reality, I begin to write this piece. This book deals with the lives of two young ladies (Taja and Nicki) who come from very different backgrounds. Just as butterflies struggle to leave the cocoon, both of these young ladies are struggling to press their way through life. They?ve allowed their past situations to cripple them in their growth emotionally and in their walk with God spiritually. Through an unusual twist of events, both Taja and Nicki will learn that both redemption and love are possible for those who believe. As the story unfolds, they?ll finally learn how it feels to spread their wings and fly.